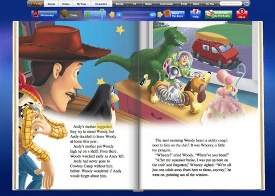 Most e-readers don't come with brightly colored screens, and this one from Disney doesn't either.
Actually, Disney isn't selling any e-book reader device at this time, but they are offering a browser based version of an e-reader with the Disney Digital Books.
For a low price of just $8.95, a subscriber can access over 500 Disney storybooks.
So, is Disney going to get into the e-reader book market anytime soon? Who knows.