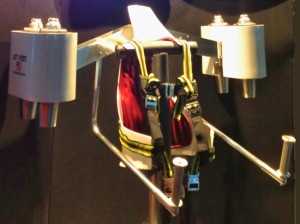 I have mentioned Kickstarter several times on this blog here. It is a terrific way for new inventors to truly put their best foot forward, and get some funding in the process.
It looks like someone is trying to actually put a jet-pack on Kickstarter. Now, do I really need to explain to you what a jet-pack is? After all, I'm sure you've seen the same speculative fiction films that I have seen, films like The Rocketeer. You know the drill, you strap a jet-pack to your back, and you can fly.
Most jetpacks aren't really jet-powered, and but giant fan packs or something. This jet-pack actually has four micro jet engines, capable of 100 pounds of thrust each. That's good enough to lift a heavy man off the ground.
According to my Source, the jet engines run on Jet A fuel, instead of expensive jet fuel. This leads to a cost of $4 per minute of flight time with Jet A.
The Kickstarter users want only $30,000 for their jet-pack, but nothing that you pledge is going to get you your very own flying backpack. It is possible to take a tethered flight for about $5,000. Find out more information here.