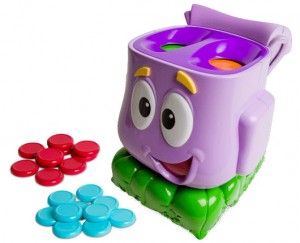 I have reported on devices from Discovery Bay Games before, such as the Atari Arcade mount and the Duo Pop. I recently had a chance to try out another product from them with the Dora the Explorer Let's Play Backpack.
This product looks like Backpack from the Dora the Explorer show, which I am only somewhat familiar with. If you aren't, he has that really stupid theme of "I'm the backpack, I'm the backpack". Yes, that is his theme, and I don't really want to talk about how much I can't really stand Dora. My kids are too old for it, honestly.
This particular iPad accessory is designed for younger audiences, and in case you are wondering what the chips are for, then are for a token economy. The Backpack connects to the iPad by simply resting on the screen of the iPad. It is powered by 3 AA batteries and it somehow works.
You have to download the Let's Play Backpack iPad app, and all the games on it are essentially the same. You have to choose which of the two items you will need for a particular task. Then you put a token on the green or orange spot on the backpack's head. After you make the choice, you touch the arrow on the iPad scren, and the Backpack takes the token.
Yes, there is a sliding thing on top that allows the token to just fall in. In case you are a nervous parent, I tried to get my finger caught in the sliding mechanism, and it just couldn't pinch it. In case you are also concerned about how to get the tokens out of the Let's Play Backpack, there is a switch that allows you to empty out the tokens easily.
I don't know how long this will keep our kids entertained. As an adult, it sort of bored me, but I think I learned some Spanish. You should be able to get the Dora Let's Play Backpack for the iPad on the Amazon site for about $39.99.