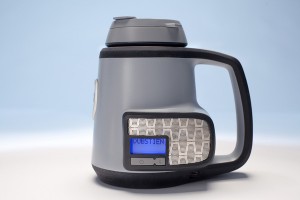 Considering the almost gratuitous amount of Bluetooth speakers that I have reviewed in the past week, I think we all know that Bluetooth is just a standard feature on just about anything. I've already seen the HAPIFork Bluetooth fork from HAPILabs, and now, a company called DUBGEAR has created a DUBSTEIN, which is essentially a beer mug with Bluetooth.
Yes, you can sync it up with your iPod, iPad, or other Bluetooth device and it will play your playlist while you are drinking. The company calls it "a fusion of beverage and music", and I can't help but agree with that.
Believe it or not, it also comes with an FM radio. You can control the music via volume controls on the handle, ans so are the channel and input controls.
In case you are wondering, this isn't dishwasher safe. However, there is a BPA free hot/cold beverage insert. By the way, it can accommodate a bottle or a can.
Now, you cannot get this thing now, but you will sometime in the Spring. You can find out more information about it here.