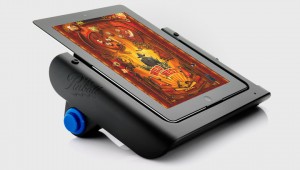 I always love reviewing products from Discovery Bay Games, and I consider myself fortunate to get a hold of the Duo Pinball. The Duo Pinball is much like the Duo Gamer that I reviewed the other day, as it is an iPad accessory made for gaming.
In this case the Duo Pinball is designed for one game, and that is, of course, pinball. All that is required is syncing the iPad to the Duo Pinball via Bluetooth, and then downloading a free application known as Pinball HD collection. This program has is essentially five different pinball machine themes (Wild West, The Deep, Snow, Da Vinci, and Jungle) and more can be purchased.
So how is playing on the Duo Pinball? Pretty darn cool. There is a plunger to pull to start the ball rolling, and buttons on the sides to operate the flippers. I will have to admit that the iPad is a smaller medium for pinball than the old-school stand-up arcade games, but it is quite beautiful. By doing a pinch to zoom or pan out, you can see a close up of the silver ball as it rolls, or a full view of the table.
I will have to say that the Duo Pinball made me love pinball again. It really is hard to score high on pinball and requires some strategy to get it to hit in the right place to maximize on score.
You should be able to purchase the Duo Pinball in several places like Amazon for a price of $59.99, and you can find out more information about it here.