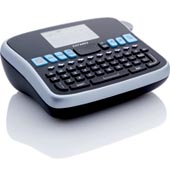 I know there are a lot of people out there that have those labelmakers and love to just…label stuff. DYMO is certainly one of the best labelmakers in the biz, and they have made the LabelManager 360D.
The DYMO LabelManager 360D uses a lithium ion battery, which makes the device sort of wireless. It has a screen that has two levels of text-typing ability, and what you see on the screen is what you get.
If you like to know more about this device, then feel free to read my hands-on review here.