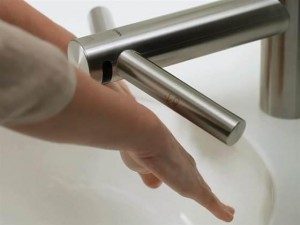 Here at The Geek Church, I tend to admire anyone who is thinking better than average. Today, it is the Dyson Airblade Tap.
This product is so good, it solves a problem that I didn't even realize was a problem. Think about every time that you use a public restroom, you go to a sink, and then walk to another area to get a paper towel or that hand-blower thing. Now imagine the Airblade Tap, which allows you to to wash and dry all in one place.
Sure, you may be holding up the line to wash hands at a restroom, but why in the world would you want to dribble water over the floor in the walk to the towels/dyer? Also, just think of the money saved on paper towels with the blower actually being at the sink itself.
I have seen Dyson's AirBlade before, and it really blasts the hand with a literal blade of air. You can see the skin ripple when it works. Oh yes, this is quite good, and I wonder how long it will take before every public bathroom has one?