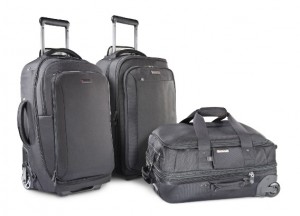 Mobile devices are usually not a friend to someone on the go. You will always see groups of people camping out at the electrical outlet, just to get a little juice for their laptop, tablet, or phone. Fortunately, ECBC has created three new types of carry-on baggage that will help this problem.
The first is the Sparrow Rolling Garment Bag. In addition to the portable recharging unit, it has a "TSA compliant" front zippered flap. So when it is time to slide your bag onto that metal detector/conveyor belt, you can open up the front so the T.S.A. can take an easy look at all your gadgets. There is also a center compartment with a fold out garment section for organizing the other essential packed goods like clothes.
The second is the Falcon Rolling Duffle, and it also has that unzippable TSA compliant FastPass flap. It can hold a 15″ laptop and designated pockets for the iPad, iPad mini, and all the cords. In addition to all these features, the bag features 2-inch expandability in case you take back more than you took with you.
The third is the Pegasus Rolling Backpack Carry On, and it can be used as both a backpack and rolling luggage. It has the Fast Pass system, built-in charging station, and the pockets for the iPad, iPad mini, and cords.
All these bags sound awesome, but you won't be able to use them until your summer vacation, because they won't be available until May. They will range in price at $299-399.