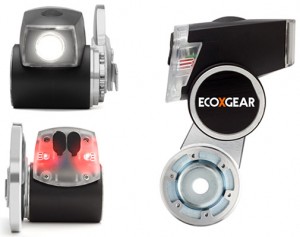 I remember when I was a kid I rode my bike to school, and it was often before the sun rose. I had a bike light, but it was battery powered, and these batteries tended to drain rather quickly. Here is the thing I don't understand: a bicycle has pedal power, and there is a lot of energy going to waste by just pedaling. Shouldn't this energy be used to power a bike light? How about charging a cellular phone?
That's right, this device, the EcoXPower can do all those things. I am told by my Source that this is the first device of its type that can power a headlamp, a red tail light, and power a lithium-ion battery. I am told this attaches to the bike's front tire with a universal mount. From there, a USB adpater cable can run up the bike's fork so it can power devices.
You should be able to bike up this device for about $99.99. I would say it is a good invention.