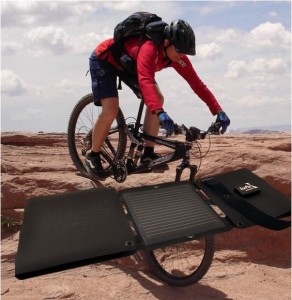 This is the third in the EnerPlex trilogy, and let's hope that it is not the Return of the Jedi of this particular three-parter. Not that "Jedi" wasn't horrible, but it did Ewok on us.
Okay, today we are going to discuss the Kicker IV, another way that EnerPlex is harnessing the power of the sun. The Kickr IV is a flat panel that can fold up into a sqaure for portability. It is a 5-watt unit that has a USB port and a cord that has a 30-pin connector, micro-USB, and mini-USB.
I had my doubts whether this would work, and it took a pretty bright, bright, bright, sun-shiny day before it started to work.
Now, this is not handy when you do not have access to the sun. I can't recommend it if you are cooped up in an office, and you should probably use your own charger.
Still, if you are out in the desert and need some juice, you can charge an iPhone in 1.4 hours, a Samsung Galaxy S III in 2.1 hours, a Google Nexus 7 in 4.3 hours, and a Kindle Fire in 4.4 hours.
You can get this at the EnerPlex site now for $129.99, and for gosh sakes, please look over EnerPlex's other products while you are there.