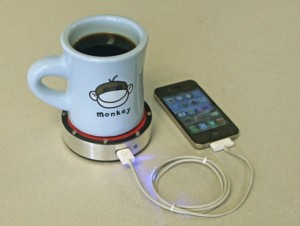 This is the Epiphany onE Puck, and it is able to take two things we do in the morning and combine them well. If you are like me, then you need to charge your phone in the morning. If you are not like me, you have a hot cup of coffee in the morning.
Imagine if you had a charger that is like a coaster, and when you put your cup of coffee on it, and the very heat of it will help charge your phone. Not only does it have a red side for the hot drinks, but you can flip over the onE Puck and have a blue side for a cool drink.
So, who is the company that makes this? Epiphany Labs, a sister company of Epiphany Solar Water Systems, has been working on low cost solar water purification system that can turn any source of water into a pure drinking source. I have no idea how the onE Puck works or how long it will actually take to charge a mobile device.
If you want to get in on this, check it out on its official Kickstarter site for about $115.