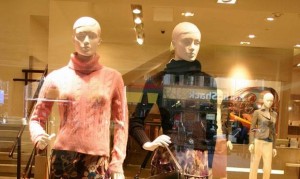 Since this is the biggest shopping day of the year, I could not resist reporting on this one. Yeah, what is shopping without creepy mannequins that look like they are watching you? Here is an interesting question: what if they are?
Stores from the Benetton Group SpA have recently installed special mannequins known as the EyeSee which have a special camera embedded in the eyes. Yes, Big Brother is watching the frenzied shoppers.
The cameras are connected to a network that is full of facial-recognition software that can log in age, gender, and race. It is the same sort of technology made to identify criminals in public areas like train stations and airports. Future mannequins want to be designed to eavesdrop, so they can see and hear.
The EyeSee mannequins were made by an Italian Almax SpA, and they have already gone on sale in Europe and in America. I have heard that Burberry and Nordstrom have publicly stated that they will not use these "private eyes".
Okay, are we getting dangerously close to a Minority Report kind of shopping here? Maybe if it will eye-dentify us, we can talk.