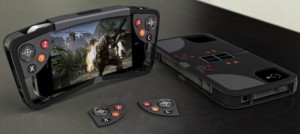 I have seen gaming pads for smartphones before. There was the Nyko PlayPad, which you can get now, and the PhoneJoy Play. Like the PhoneJoy Play, this particular gaming case for the iPhone known as the FlipSide is a Kickstarter project.
The FlipSide is pretty nifty as it just takes the controllers and puts them in a way that is most convenient. All the user has to do is simply flip them back when not in use.
Not only is the FlipSide have these cool flipping controls, but they also help save power as it has a sensitive solar cell with a thin film battery to keep working.
I feel pretty positive about this project, as the inventor, Justice Frangipane, is teaming up with iDevices, who make a lot of create devices like the iShower Bluetooth Speaker.