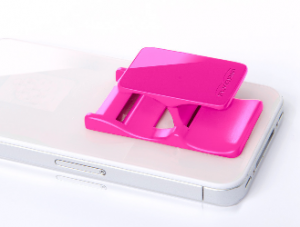 Now that I have just finished talking about the Tech Tips Nail Stylus, I want to talk about another accessory for the smartphone that will make it easier, the FlyGrip.
The FlyGrip is essentially a plastic thing that sticks to the back of a phone that makes it easy for one-handed use. It has a shape designed to fit in between two fingers.
In addition to that handy feature, it can also fold backwards so it can work as a stand for a smartphone.
If this is something that you are looking for, you can get it on the FlyGrip site for about $29.95 in several colors like Ravinshing Red, Prosperous Purple, Bold Black, Yelling Yellow, Booming Blue, Gutsy Green, Outrageous Orange, Mighty Magenta, and Warrior White. Yes, those are the names of the colors.