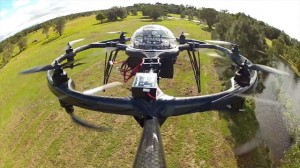 I have been seeing a lot of multi-propeller crafts these days, and they generally show up as toys. This one has more purposes than just entertainment.
Imagine a fleet of these multi-propeller drones hovering over the beach, keeping a close eye on swimmers and such. This is what the Surf Life Saving Australia program wants to do, to keep an eye out for swimmers, not to mention sharks.
You can watch in a video after the jump to see one of these interesting helicopters in action, and I have to admit, they look rather cool. There are many concerns whether or not this could be used to invade people's privacy, and I could see why that might be an issue, at the beach.
I have also heard that if this trial is successful, then they would like to see them expanded to patrol Australia's waters, "unmanned by lifeguards". I think that is way to premature. I have heard that these things have a payload capacity of 15 pounds. I don't think that is enough to haul a drowning victim out of the water.