The Samsung Galaxy S10 is not available for purchase quite yet, but we have a bunch of cases you might be interested in. These cases are from Supcase- a company we haven't done reviews for yet, but they sell protective cases and accessories for tablets and phones.
Unicorn Beetle Pro Full Body Rugged Holster Cases for S10 + and S10e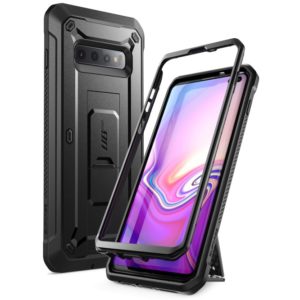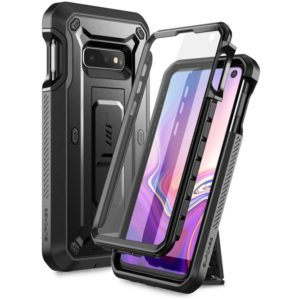 These cases are nice and sturdy. Winner of CNET's drop test of most feet dropped. They have kickstands so you can prop your phone up. Nice cut outs for the camera and ports, but covers to protect from dirt, dust and moisture. The backs are smooth, but tough polycarbonate material. They both have TPU lining for shock absorption. Belt holsters are included. These cases are similar in price and most features- except that the case for the S10e has a built in screen protector. The one for the S10 + does not.
Both cases cost $28.00. The S10+ case can be purchased here. You can also find it in purple and black. Here is where to buy this case for the S10e. This one is only available in black.
Unicorn Beetle Metro Clear Case for S10/S10 +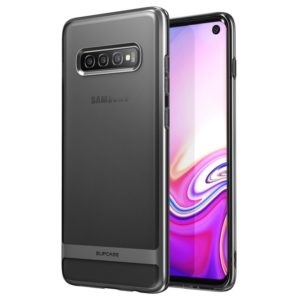 These translucent black, flexible cases will offer protection with the TPU shock absorbing bumper. While not as heavy duty as the other cases, these still exceed the military shock standards. They have the bezeled edges to protect the face of the phone when placed face down. Only $19 to purchase the case for the S10 and S10+
Or, for the same price, you can get
Galaxy S10e Unicorn Beetle Style Clear Case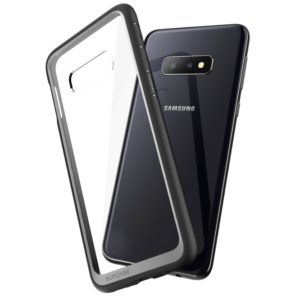 This case, also available with a pink edge, has a transparent, scratch-proof back. The shock absorbent sides have a texture to add grip. This case also exceeds military drop test standards. You can purchase it here.