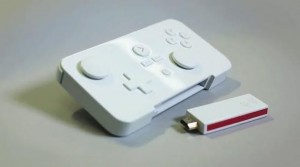 Some of you might remember hearing about the Ouya, an Android OS console that will bring all the games of the Android platform to the TV.
The Ouya was an amazing Kickstarter campaign, and it looks like the the GameStick could be quite a success as well on the crowdfunded app. The PlayJam is essentially an Android-powered console that uses a USB flash drive-like device to plug it right into your HDMI port.
As you can see, the HDMI stick can fit directly into the controller. It incorporates Bluetooth for wireless connectivity, and has 1GB RAM and have 8GB of Flash memory.
If you get on Kickstarter now and donate $80, you should get a GameStick for your very own. I believe that you might have to pay $115 if you don't get there in time.