If you travel abroad, you probably know that not all outlets are the same in different countries. This 45 W, super thin charger will solve your problems of charging internationally. Today we're reviewing the GaNFast Mu One.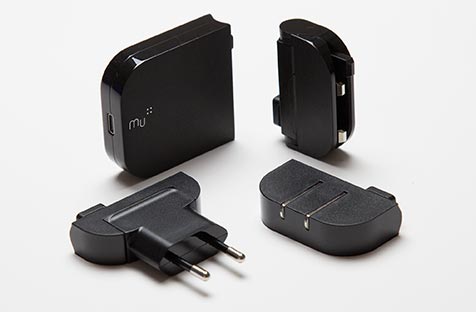 GaNFast is a company which creates technology in the form of high speed chargers. They come in different forms, but the Mu One is a slim profile charger that comes with different adapters to plug in sockets from other countries so you are able to easily charge wherever you go.
GaN stands for Gallium Nitride, and that grants the potential to convert power up to 100x faster than old, slow silicon chips. The 45 W charger means you can juice up anything from a small cellphone to a MacBook or other type C notebooks. It's also only 14mm thin, and very lightweight, which makes it perfect for travel.
This was a recent Kickstarter project, but as of March 2017, the Mu One is fully funded. Not sure when it will appear on Amazon for sale in the US,  but it's selling on Amazon in the UK for £59.99(which is about $78 USD). USB C- cable is sold separately.
We were sent this product for free to review, but no other compensation was given. We may have links for purchase through our Amazon Affiliate account where we may receive a kickback if a purchase is made.