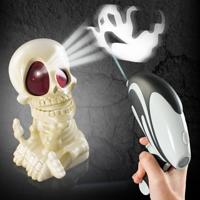 Some of you might remember the film Ghostbusters, which came out 28 years ago. In all honesty, I can't say that as a Christian that I fully support the film. However, I don't want to get all condemning on a film which I consider one of the funniest movies ever made, even though the DIY method doesn't work to get rid of hostile supernatural forms.
In other words, you can't shoot ghosts down with the proton-packs that were shown in the Ghostbusters movies. I don't have any problem playing a video game where this method of "busting" works, and I loved the Ghostbusters game that came out a few years ago, which reunited the original cast.
Now, just in time for Halloween, there is Ghost Hunt. My Source does not have much to say about Ghost Hunt, but apparently, it projects ghosts on the wall, and the user can shoot them with a rechargeable gun. Apparently, the ghost even screams when it is hit.
I'm not why someone doesn't put a Ghostbusters twist on this. I guess their method of busting the haunts is too complicated with the whole trap thing and all. You should be able to pre-order Ghost Hunt on the Firebox site for about $48.69.