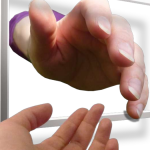 A few years ago at CES, everyone was very, very excited about 3D television. This was back when Avatar was going to be the new standard of movies, even though it has very little imitators.
Granted, everyone was ga-ga for 3D, and so everyone wanted a television with 3-D Blu-ray movies that could bring us that experience. In all honesty, I don't know how good the technology is. Are we at the point where we can just put something in the DVD player and out it comes in 3D, provided you are wearing the glasses? If so, I would like to try it out on my VHS tapes, and other home movies.
Now, imagine watching a true 3-D television, without any glasses. This what I saw at this year's CES, courtesy of Stream TV Networks Ultra-D. The speaker talked a lot about the science of it, and how their 3D TV doesn't try to fool the eye. I didn't really get a lot of the science, as I was there to see and not hear.
So then Ultra-D unveiled the television, and yes, I didn't need any glasses to see the 3-D effect. Once the crowd had parted, I got a closer look, and yes, I could see the 3-D from any angle. No sweet spot required for the 3-D effect to work.
So, here's the problem: I felt a little motion-sickness watching it. I did a little experiment where I would look at something 3-D, like the other people at the press conference, and then I looked at the 3-D images on the screen. For some reason, I didn't feel the way the motion-sickness that I felt watching real 3-D as I felt watching the Ultra-D 3D. I thought that I might get sick after watching the Ultra-D for a few hours, but I have to admit that I cannot prove that.
The question is really whether or not this type of 3D will be in everyone's home. If so, there may be some unfortunate side-effects.
Right now, I see 3-D video tech as merely a stepping stone for the technology that we really want: holograms. Of course, our current home entertainment centers would not be able to handle that. In the meantime, you can watch some Ultra-D video footage after the jump.