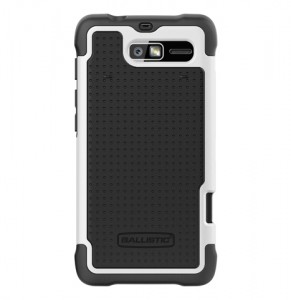 I realize that headline seems very contradictory, but when it comes to protection for mobile devices, there are the usual cases that I often report about, and then there are the gourmet ones that offer a lot of protection.
These are the cases of Otterbox and Ballistic. I had a chance to try out the Ballistic case for the Motorola RAZR M, my former phone. No offense to this phone, but I have changed phones.
The Ballistic case is able to give three layers worth of protection. One of them is this rubbery shell that can be put over the Droid RAZR M and the other is a hard thing that locks it into place.
Okay, that wasn't the most technical of explanations, but if I was going on the explanation from the company, it has its trademarked Reinforced Ballistic Corners which means all corners are safe.
If you want to get the Ballistic for the Motorola RAZR M, it costs about $34.99 here. You should also check out everything else that Ballistic is offering here.