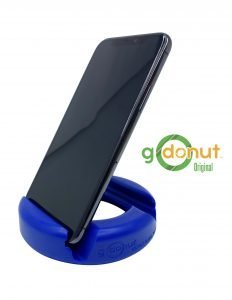 I have to say that everyone could use a product like the GoDonut, because everyone should have a place to hold their phone or tablet. Granted, you might not be able to charge it there, but if you want to hold it there, the GoDonut Universal Stand and Universal Stand 360.
I'll start with the GoDonut Universal Stand, original model. It looks like it was made with a 3D printer, but this donut shaped stand is made to hold a phone or tablet from three different angles.
There is not much to say about it, other that it is compatible with all kinds of mobile devices, and it comes in many colors. It also has a pretty low price of $14.99.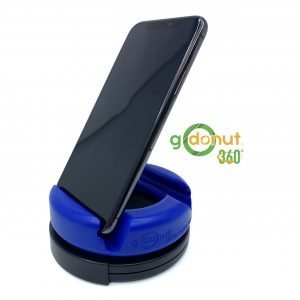 So, what is with the Universal Stand 360? Well, imagine the same thing, but it has this little swivel stand on it, kind of like a Lazy Susan. I don't really know how to describe it other than that, but can you blame me?
You should be able to GoDonut 360 for $24.99 also on the GoDonut site for $24.99. I suggest looking at them both, and seeing it if it what you want.