We see a lot of backpacks for carrying electronics cross our desk to review. The backpack that we are reviewing today makes a claim that I don't recall others touting, and that is the friendliness of the design for TSA. Hopefully we'll be able to find out how that works in today's review.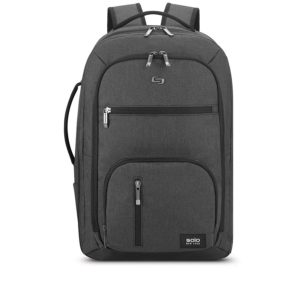 This backpack has a great urban design. It holds 30L in the main compartment, where you can pack things tightly with the compression straps. There is a padded laptop pocket which holds up to a 17.3 inch laptop or tablet. I believe that the design in the laptop compartment is what really makes it TSA friendly. You don't need to even take your device out of the bag at checkpoints. It's also a great size- 18″ x 13″ x 10″, so you can easily carry it with you without having to check it.There is also a strap in the back that will slip over the telescoping handle of other luggage- making it easy to maneuver through the airport.
In the video below, you will see that there are numerous pockets. It's easy to organize things such as pens and more. The material is high quality, and makes it easier to see where the $99 price tag comes from.
We were given this backpack in exchange for our fair and unbiased review, but you can buy it on the website, or through Amazon, Best Buy and other retail stores.