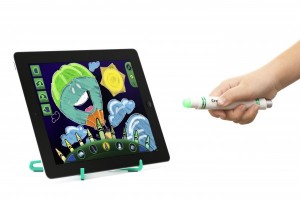 I think we all know that Crayola has cornered the market as far as anything crayon-related is concerned, and Griffin Technology has figured out a way of making it even cooler.
Imagine a pen that you can use on the iPad. That isn't difficult, as there are many on the market right now. Now imagine that a young hand can take that pen and not even make contact with the iPad screen.
I got a chance to see it in action, and I saw how the user can select from different colors by waving their hand in front of a screen like a magic wand. It really is quite cool, and I can imagine that little hands will be quite impressed by this.
Also included on the Light Marker are activities like Dot to Dot, Paint Splatter, Coloring Pages, Puzzles, Hide 'N Seek, and Free Draw. The Light Marker will be available in spring for a price of $29.99.