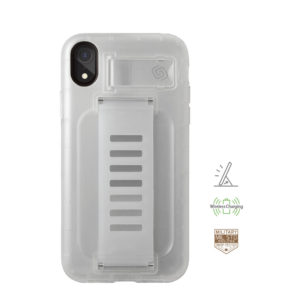 This is the first time we've reviewed a case from this company, Grip2ü. They are a company that specializes in phone cases with Prevent the Drop® technology. It's basically a flexible plastic strap you can put your fingers in to help you hang on to your phone.
The straps can be ordered separately in other colors, however, when I look at the bands on their site, none of them seem to fit iPhone 8/7 Plus BOOST & BOSS, Xr / Xs Max BOSS cases or any Galaxy cases. I'm not sure which phone cases they DO fit.
The case itself is Military standard drop tested, and has a little kickstand that would allow for horizontal viewing. The placement of the kickstand is not very ideal, though. It would be very easy to knock it over as there is no center of gravity.
The cases allow for wireless charging on those phones that have the capability to do so. They come in this clear color, Charcoal and also Ruby for $29.99.
Grip2ü sent us this case for the iPhone XR for free in exchange for our fair and unbiased review. No other compensation has been given. If you purchase this case through our Amazon affiliate link below, we will earn referral fees.