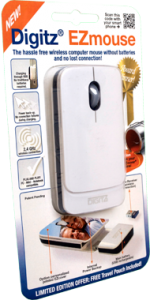 I had a chance to check out the Digitz EZmouse at CES last January, and I was very glad that I finally got a review sample to check out for myself.
The Digitz EZmouse is a very cool mouse that has several cool things going for it. First of all, it is a wireless mouse that does not require batteries. It has a a detachable section that inserts in a USB port, and then it charges. It also has a USB dongle for a 2.4 GHz wireless connection, and my computer recognized it right away.
Yes, no software downloading is required, and there is another bonus, a free EZcover. This particular EZMouse that you see here comes with a Voucher in order that you can create your own photographic cover.
I wonder why aren't all mice like the Digitz EZMouse. It is enough to make wired mice get put to shame.
You should be able to get the EZMouse with the Special combination cover for about $49.95 at the Digitz EZMouse site.