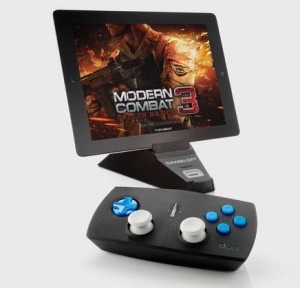 I found that there is a great market for controllers for mobile devices, which I can only see as an obvious result of the mobile gaming revolution. For example, there is the PlayPad from Nyko, and now this Duo Gamer from Discovery Bay Games, makers of the Dora the Explorer Let's Play Backpack.
The Duo Gamer is reminiscent of another product from Discovery Games, the Atari Arcade for the iPad. This Duo Gamer controller is wireless, and it comes with two analog joysticks, D-pad, four buttons, and two triggers. Now you can play game on the iPad, iPhone, or iPod with a controller like an Xbox 360 or PS3.
The Duo Gamer works especially well with Gameloft games, which makes sense, as it was developed in cooperation with them. I had a chance to play an app known as Asphalt 7 on it, and it is a racing game that was made more fun with a Duo Gamer.
In short, I highly recommend that you try playing a game with the Duo Gamer. You can find out more info about it on the Discovery Bay site. You can find it on the Apple Store or Best Buy for about $39.99.