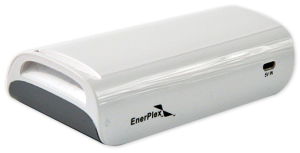 As you might know, I am on a three-part story on EnerPlex, and this is the second part, which I am hoping won't be the low point in this trilogy. You will discover that the EnerPlex Jumpr is very similar to many products out there.
I think the last one that I reviewed like it was the BoostBloc6600 from Eton. Then there is the Burton Resync, Mophie Juice Pack, and I honestly don't really want to provide the usual hyperlinks that I normally put in when I reference previous gadgets that I have reviewed. These are chargeable batteries with a USB port that charge pretty much anything that is USB chargeable.
So I tried out the Jumpr 4400, so named because it has the capacity of 4400 mAh. This particular one is pretty small so it is pocket-sized, and it can charge a device a few times. It can do the iPhone 4S or iPhone 5 3 times, a Galaxy S II twice, and a Google Nexus 7 or a Kindle Fire once.
Here's the thing that I like about the EnerPlex Jumpr 4400, and I believe it is on the Jumpr 7800 as well. You see, these mobile phone batteries are flashlights. Just touch a button and you will get a convenient light. I figure that if you are going to have some extra power, you might as well use it when you need it.
You can get the EnerPlex Jumpr 4400 for $69.99 here, or the Jumpr 7800 here for $89.99.