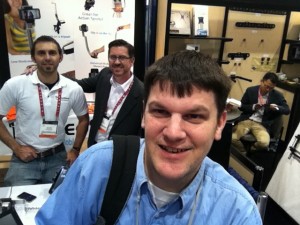 What you are seeing here is a shot I took at CES 2013. I thought that something like this might give you an idea of what the show is like, and how all these tables and booths are packed so closely together.
Now, how did I get such an overhead view? I have the iVideoStick to thank for that, which you can see below. The iVideoStick is quite a cool invention, and its simple genius is why I attend the CES show.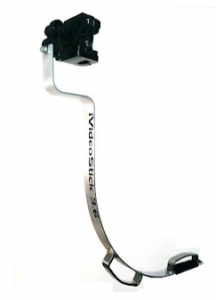 The iVideoStick isn't nothing fancy, just a metal bar with a handle designed for a better reach. The handles are designed so that the grip is steadier than most cameras. All that is required is to put a camera, smartphone camera, or tablet camera on a timer and prepare for a picture with a slight birds-eye view.
In case you are wondering, it is possible to mount the iVideoStick on a tripod, and it has a Universal Device Holder for whatever you have to take pictures with.
You should be able to purchase the iVideoStick on the official iVideoStick site for a price of $49.99 (one-handle) or $69.99 (two handles).