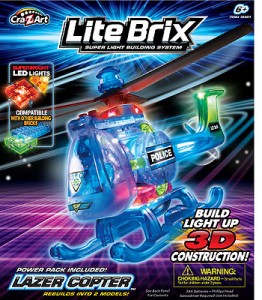 While I was at CES, I had a chance to check out some awesome building bricks that glowed known as Lite Brix. Of course, I had to try them out, as I wanted to see the secret of this glowing effect in order to satisfy my Lego enthusiasm.
First of all, I can tell you that Lite Brix are compatible with other building blocks, including the one that starts with an "L" that I said earlier. The Lite Brix has these special bricks that will glow when attached to a battery pack.
I can honestly say that Lego doesn't have any of these light-up bricks, but they really should. Most of what I see on Lego is just a simple LED light bulb. The Lite Brix light up in a way so there are many colors of light, but there doesn't seem to be a way to keep it one solid, non-blinking color. These special light-up bricks have to be connected with these insulated wire pieces, and they come in many shapes.
Here is my final analysis of the Lite Brix. I was impressed with the light-up effects, and what can be done with them. I believe that one could spend quite a bit of time constructing and reconstructing them to make wonderful, luminescent creations.
Now there is only one downside. See the helicopter in this picture? This is what is on the box. What they don't show is that in order to achieve that glowing effect in the actual model, you have to attach a battery box piece that is quite large. This helicopter could use it as a landing pad.
If you want to get in on this Lite Brix action, head on over to the Cra-Z-Art site. The Laser Copter is about $23.99, and there are other models at various prices.