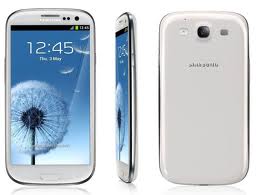 When I was at CES, it seemed like every company had accessories for the iPhone, and they all had accessories for the Samsung Galaxy S III. I knew that I had to get this cool phone, and I am grateful that Samsung was able to provide it for me.
The Samsung Galaxy S III is the Android flagship phone, and it is not hard to see why. I was pretty impressed by the real estate of the screen at 4.8 inches, and it also great to see its resolution as well. It has the latest version of Android, Jelly Bean, and I was able to try it on Verizon with their special features.
I was pleased to try out S-Beam, the ability to beam a photo or other data to another Galaxy S III just by placing it close to another one. Granted, I found that this ability was blocked when there was a certain type of case on the Galaxy S III. It took me a while to get the hang of this, but this really should be a standard on every smartphone, not just one type.
I found that the Galaxy S III had other features like S Voice, which is activated by hitting the home button twice. Then all that is necessary is asking a question, and it can do a web search for you. You can even use it to check your calendar or set and alarm. I don't know if it is better than Siri, but it is downright helpful.
Then I found that there are a wide assortment of shortcuts, some of which have to be activated in the Settings Menu. For example, a swipe of one's hand can take a screenshot, or tapping the top of the Galaxy S III advances you to the top of a list.
In short, I found that someone took what smartphone users need and gave it to them in the form of the Samsung Galaxy S III. I have heard that the S IV is on the way, and will probably seen at Mobile World Congress this year.