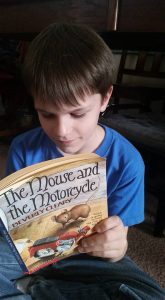 This picture was taken two years ago on Beverly Cleary's 100th birthday. Who could have imagined that the beloved author would still be alive today? From Ramona and Henry, to Ralph S. Mouse and his motorcycle, to the older teens experiencing their first crush, Mrs. Cleary has instilled a love for reading in many of us for generations. Today, schools across the nation celebrated National D.E.A.R.(Drop Everything and Read Day) in honor of this great author.
Beverly Cleary may have struggled in her early years learning to read according to her website. She could sympathized with struggling readers, as she started out in the low level readers' groups at school. In third grade, she was encouraged by the librarian to write books for children when she grew up. She wanted to write the books as she would later describe as,  "From my own experience and from the world around me."
As a result, she has written books for kids such as:
Henry Huggins– her first book published in 1950
The popular Ramona collection- of which there are 8 books!
The Mouse and the Motorcycle
FIFTEEN
Dear Mr. Henshaw
and more!
She was even asked to write some books based on the show Leave it to Beaver, and she wrote three of them- Leave it to Beaver, Beaver and Wally, and Here's Beaver!
Her books are cherished all over the world, and have been published in over 25 different languages. She has received many awards and honors over the years including three Newbery awards for Dear Mr. Henshaw in 1984, Ramona and Her Father in 1978 and Ramona Quimby, Age 8 in 1982. In 2008, the Fernwood Grammar School she once attended  was officially renamed Beverly Cleary School.
As a child, I couldn't get enough of the Ramona series and the books about Henry and his dog, Ribsy. I also enjoyed Dear Mr. Henshaw as a teenager.  What was your favorite book? Let us know in the comments.