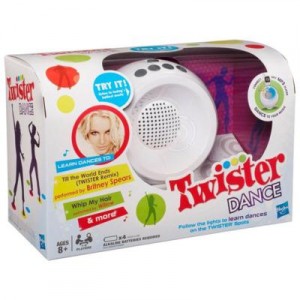 I have never been a big fan of Twister before, and I suppose it is about time that it is about time it got technological. I'm sure that you could easily turn the spinner into something electrical, but what about combining the power of Twister with dance?
This is exactly what Twister Dance is designed to be. The game that you see here comes with a speaker and spots that you put on the floor. The speaker plays songs that it comes with like "Till the World Ends" by Britney Spears or "We R Who We R" by Ke$ha. While it plays the songs, certain colored lights come on from the left and right side, signifying what foot to put on what spot.
Does that make sense to you? I hope so. I have seen this Twister Dance advertised as a "game", but I am not certain whether or not I would call it that. It isn't like the spots that come with Twister Dance have any sensors on them. In other words, this isn't like Dance Dance Revolution or any other music-based game where the game records whether or not you took the right step.
In other words, this could have been a real game with some sort of automated sensors, but it doesn't have them. The good news is that the speaker part can be used as a speaker for any MP3 Player, and it will create a dance tune with flashing lights.
Twister Dance costs about $34.99 on the Hasbro site.