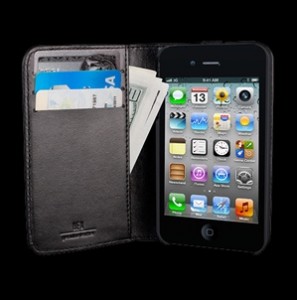 I have seen HEX products in the past, and they make some very quality iPhone cases.
The HEX Axis wallet has a place for stashing three credit cards, as well as a place for stashing cash. HEX says that it "improves protection", but I am not certain how much protection this will give. I honestly don't know any iPhone case that can take a bullet, but I could be wrong.
I think that the Axis Wallet is designed for the interim period where the cellular phone will soon take the place of our wallet. Sure, we have to work out a mobile payment plan for everyone, but I think we all know that this is coming, so why not make our cellphones look like our wallets.
Yeah, it will be a whole new age. If you want to be ready for it, head on down to the HEX site and lay down $49.95. It comes in Torino Black or Torino Red.