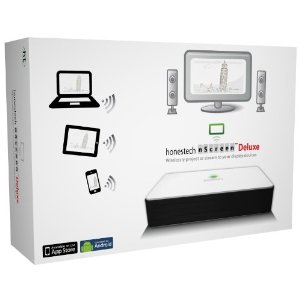 I have seen a lot of devices that allow a PC to be but on a TV, and it usually allows for a TV to be used as a secondary screen. The Honestech nScreen Deluxe works a little differntly than those.
Most of these PC to TV projectors involve plugging something into the HDTV through the HDTV port, and then plugging something into the computer. Then you have to sync them up somehow. In the case of the nScreen Deluxe, you plug this white box into the TV, and then use the included CD ROM to link to the box's wireless network. Then all you need to do is sync the PC with the box's Wi-Fi network.
This is a good presentation tool for business people, but you will need to hook up the white box to a router if you want to put something on the Internet on your TV. You can also stream content from a portable device as well. You may find that the screen resolution may not match perfectly.
Still, if this sounds like something that you want, I highly suggest heading over to the Honestech site and laying down $149.99 for it.