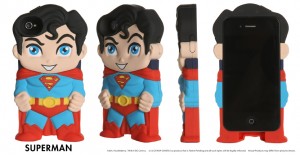 While I was at CES, I saw a company named Huckleberry that I believe you should keep an eye on. Huckleberry makes covers for the iPhone 4/4S, iPhone 5, and plan on making some for the iPod Touch, iPad, and iPad mini as well.
Of course, there are a lot of companies that do that, so what makes Huckleberry different? Well, Huckleberry makes Chara-Covers, which are covers that look like superheroes from Marvel like Iron Man, Spider-man, Thor, Captain America, and Wolverine as well as DC characters like Superman, Batman, Batgirl, The Joker, and Harley Quinn. This isn't all, as Huckleberry is acquiring licenses by the tons, and they have the rights for other franchises like Despicable Me and the next Iron Man movie.
You can look at the Huckleberry site here, but there isn't much yet but some dolls. Keep an eye out for it in the future. I hope to have a price by then.