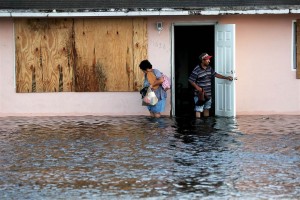 There has been a lot of talk about climate change in the wake of the two category 4 Hurricanes we have seen in the U.S. within just a couple of weeks of each other. Hurricane Harvey caused at least 70 deaths in Texas, and a lot of destruction of homes and other buildings. While people are still struggling to recover there, Florida is being hit hard as well. This is the first year that two hurricanes of this magnitude have made landfall in the same year in the United States in 166 years of weather reports.
People are joining in the debate whether this is related to climate change, which some are saying is insensitive to do at this time. Scott Pruitt, the head of US Environmental Protection Agency, has said in an interview with CNN that, "To have any kind of focus on the cause and effect of the storm; versus helping people, or actually facing the effect of the storm, is misplaced.
The mayor of Miami, Tomás Regalado, is not in agreement with Pruitt.  He told The Miami Herald that "This is the time to talk about climate change. This is the time that the president and the EPA and whoever makes decisions needs to talk about climate change." Regalado might have a voice in this since his city is partially underwater because of Irma. If this isn't climate change, I don't know what is. This is a truly, truly poster child for what is to come."
According to CNN in an interview today, the White House Homeland Security Adviser, Tom Bossert, said,"Causality is something outside of my ability to analyze right now," and that it was too early to tell. He spoke of cyclical seasons and commented that they would do a trend analysis at a later date.
Bringing it to religion- Pope Francis says in the wake of these hurricanes:
"If we don't go back we will go down. That is true. You can see the effects of climate change with your own eyes and scientists tell us clearly the way forward. All of us have a responsibility. All of us. Some small, some big. A moral responsibility, to accept opinions, or make decisions. I think it is not something to joke about."
"Those who deny it (climate change) should go to the scientists and ask them. They are very clear, very precise," the Pope stated the other day during a press conference.
"A phrase from the Old Testament comes to mind: 'man is stupid, a stubborn, blind man'," he added.
Should we be thinking about climate change? Is it our responsibility to take care of the earth that we have been given? Can the political parties come together to make decisions that might benefit us all? Leave your thoughts in the comments.
By the way, if you are looking for hurricane proof windows, check out this article at Happy DIY Home.