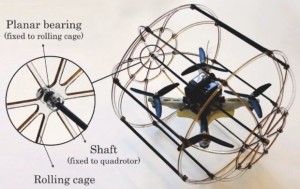 I just reported on some very futuristic transportation with the Series Lo MagLev train, and now I have something very special with the HyTAQ hybrid quadrotor robot.
You might want to hit the jump and watch the video for this one. Allow me to simply say that it is essentially like the time-traveling Delorean from Back to the Future. Not only can it do the roads, but where it is going, it doesn't need roads.
Yes, this machine, designed by Arash Kalantari and Matthew Spenko, allows a quadrotor device to be placed within a cage. Not only can it fly like a quadrotor, but it can roll along on almost any terrain.
Granted, the flight time is only 5 minutes and 1,969 feet, but this is in miniature. I have no idea if there is any plan to turn this into a vehicle that I could drive. That would make our current roads a little too narrow, but I like the idea vehicles that can fly, even if it is only for a few minutes for a charge.