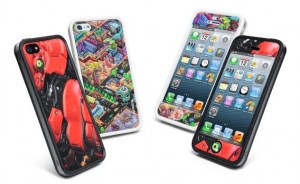 Some of you might remember when we reviewed the Cushi from idAmerica, which were essentially giant puffy stickers that give your mobile device protection. Apparently, people complained that the unique sticker protection was not enough, as idAmerica created a new and improved version. That, or the company wanted to improve on their models for the latest designs of smartphones.
The Cushi Plus for the iPhone 5 is very unique as not only does it have a bumper-style case for side protection, but it has a sticker for the back of the case. But the back sticker isn't new, it is the cool front ones that you can see on the right of the image that really offer protection around the "Home" button as well as the front-facing camera lens.
Okay, the protection is just a sticker, but it is somewhat shock-absorbing and the adhesive will insure that it sticks on. What you really want here is style, and these Cushi Plus protectors come in more than 50 unique designs.
The Cushi Plus just became available on the Cushi site for about $24.95. While you are there, check out other idAmerica products.