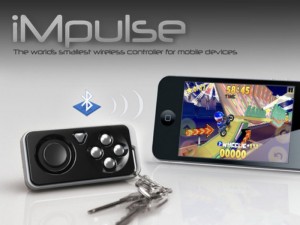 As I peruse the blogs for potential stuff to write about, I am getting good at noticing what is a Kickstarter project.
For those who don't know what Kickstarter is, it is where inventors post their wares online. You can give money for it, and the device will be given to you when it is eventually created and marketed.
So here is the first rule that it is a Kickstarter project: is it useful? In this case, it is the iMpulse Bluetooth controller, as it is a gaming controller from your iOS or Android device. Not only that, it works as a keychain, and you can use it to find your keys.
Seriously, it is very useful. This is how I knew it was a Kickstarter project, because no one technology company has put this out yet.
This is really too bad, isn't it? Well, I am certain that someone is going to pick up on this. If you want to see this now, go to Kickstarter and donate $30.