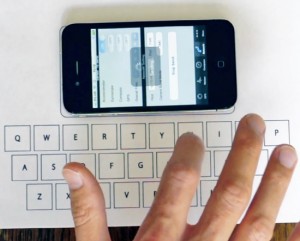 I think we all know what is separating working on a mobile device with say, working on a laptop or desktop. Yes, it is having a keyboard handy. Sure, the Surface and the iPad have their share of keyboards, but imagine having a really good one for the iPhone, and no separate accessory was required.
This is the vision of the Vibrative Virtual Keyboard. What you see in the image here is only half the story. Yes, you can put the iPhone on a special cordoned-off section on a sheet of paper, and tap on the QWERTY keyboard. In actuality, no piece of paper is required.
The Swiss programmer Florian Kraeutli designed this Vibrative Virtual Keyboard as an app that would hear when you tapped a certain letter. Apparently, the iPhone is sensitive enough to detect when you type a "w" or an "e". It is able to detect taps without any written keys, apparently.
There is a video after the jump so you can see it in action, but it really is just edited shots so it looks like it works. You can see screenshots of things being typed, but if you look at the screen when the user is typing on the paper, it looks like something is trying to load. Still, don't hold it against the idea of something like this, which could easily change the way we interact with mobile devices in the future.