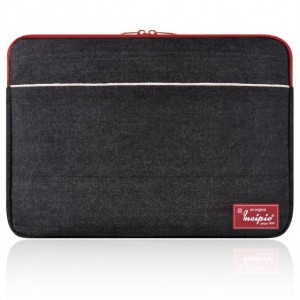 While I was at CES 2013, I had a chance to see a lot of accessories for mobile devices like the ones from Amzer. I finally had a chance to try out some products from Incipio, specifically ones for the MacBook and iPhone 5.
I'll start with the Selvage, a MacBook Pro 13in Padded Denim Laptop Sleeve. As you can see, it has denim outside like a pair of jeans. On the inside, it has a soft and non-abrasive lining that can protect the MacBook from all kinds of dents and scratches. You can get it on the Incipio site for about $49.99, and you can get it in different sizes of MacBooks as well.
Also from the company is a new case for the iPhone 5 knwon as the Stowaway. It is essentially a credit card case with an integrated kickstand, and it has a Rigid Plextonium frame with a gloss finish. It can also hold 3 ID or credit cards, and the compartment lid opens to be the kickstand, by the way. You can get it here on the Incipio site here for $34.99.
Then there is the DualPro CF, also for the iPhone 5. It also has the Rigid Plextonium frame, with a shock absorbing silicone inner lining and a carbon fiber finish. It has two layers of material for protection, and it is available on the Inicipo site here for DualPro CF for $34.99.