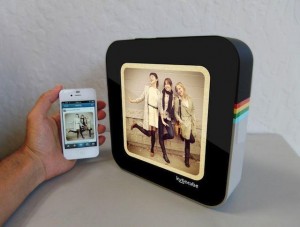 I suppose that I shouldn't be surprised that someone has developed an Instacube, the issue I have is that this device isn't already available.
Yes, this is one of those Kickstarter projects, which means you have to pledge a little, or in some cases a lot of money to get one for your own. Let's just get the price of the pledge out of the way and say that $149 will get you the device when it finally is released.
So what is the Instacube? Imagine being able to simply take all the Instagram photos you have and put them on a digital picture frame that is about three times larger in area than most smartphone touchscreens. All that is required is to plug it in, connect it to your personal Wi-Fi network, and log on to your Instagram account. You will find that streaming is simple, and all your Instragram fun photos are there for you.
I don't know whether or not Instagram themselves endorse this product, but they really ought to. I mean, look at it, for crying out loud, it is one big ginormic ad for Instagram!