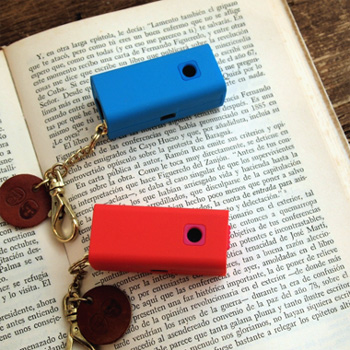 For the sake of convenience, technology continues to get smaller. In recent years, we've seen the creation of handheld games, camcorders, Mp3 players, cell phones, laptops, iPods, lapbooks and iphones. In this day and age, we enjoy the ability to entertain ourselves, create videos, communicate with people wirelessly, do work in nearly any location and access the Internet with these devices.  Such technology is ideal for us to use "on the go" in any place due to their smaller size so they can be stored and carried with ease.
Exemode has created the SQ28m Pocket Digital Camera.  This camera, of course, fits in your pocket and can also be attached to your keychain for very convenient storage and access in any location.  It records footage at 320 x 240 and 8 fps without audio. However, it also includes color filters for picture quality, making it a respectable digital camera to be taken seriously.
I like the fact that it's a real digital camera the size of a keychain flashlight and it comes in various colors like blue (my favorite color). Now you can capture footage for personal videos anywhere you are and all the equipment you need rests on your keychain, in your pocket or both.