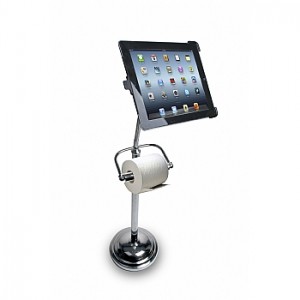 For some reason, CTA Digital is working on ways of bringing the iPad into the bathroom. At CES, they had the iPotty on display, and I will admit that it is odd to have a potty-training seat with a place for an iPad.
For those grown-ups who take their iPad to the toilet, you might want to consider this alternative, also from CTA Digitial, which is officially called the Pedestal Stand with Roll Holder for iPad. It has a bendable gooseneck stand for adjusting a viewing angle, but I have no idea if you can use it standing up.
Oh, the bathroom humor is just abounding on this post! Of course, there is more to this thing than just a chrome stand for the iPad, but a place to hold the toilet paper. T.P. are you with me? Oh yeah, oh yeah, we're in the bathroom on the iPad we ain't goin' nowhere!
Okay, all Kirk Franklin references aside, let's talk about price. I found it on Amazon for a price of about $49.53 and find out more info about it here.