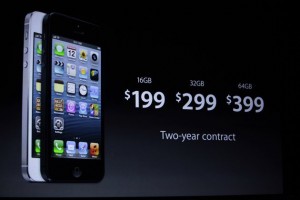 Ah, time for what tech bloggers live for, the announcement of a new Apple product. It looks like they finally got around to making that iPhone 5 and call it something like the iPhone 4SS. So, let's see what new things were put on this year's model.
Remember when the iPhone was completely redesigned and flattened for the iPhone 4? Well, the iPhone 5 has also been completely redesigned with its body "stretched" for the new 4-inch screen. That's right, it has a larger screen, and it has a Retina resolution of 326 pixels per inch. I'm not certain how well that improves it overall, but the user can now add an extra row of apps on the phone's home screen.
Do you know what this means? It means that all the people that design iPhone cases will have to make bigger ones. As someone who reports on these cases all the time, I can honestly say this will change the economy. Oh, by the way (or should I say one more thing), the iPhone 5 is 18 percent thinner and 20 percent lighter than the iPhone 4S. Oh, there is also a new "Lightning" port that is 80 percent smaller than connectors of previous models. Yeah, that will change things, but you can get an adapter for all your old Apple chargers.
The iPhone 5 will finally have the 4G LTE. Let us hope that your provider's coverage area can keep up with it. Another change is an upgraded processor, the A6. Oh yes, there has been some changes on the back with a no-gloss finish on the black model, and brushed aluminum back on the white version.
Okay, so let's talk camera. The camera is at 8 Megapixels, with dynamic low-light mode for imperfect lighting conditions. It is capable of panorama mode for a huge 28 Megapixel image, and it is 40 percent faster than before. The iPhone 5 can do 1080p video with the rear-facing camera, and 720p video on the front.
In addition to the hardware change, the software has been upgraded with iOS 6. It can support offline maps for navigation, and Siri will also get an upgrade as well.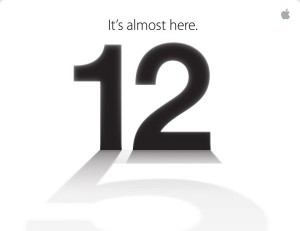 So, let's talk about the cost. It is $199 for 16GB, $299 for the 32GB, and $399 for the 64GB. That is with a two-year contract. You'll have to wait two days to pre-order, and the phones themselves will ship on September 21. If you need a reminder, just switch the big digits in the illustration here on the left, and maybe now the shadow will match. Yeah, that image has been bugging me for days now.