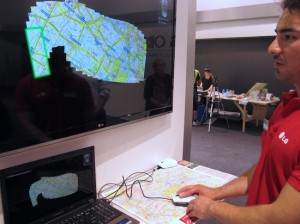 I realize that while my last few posts have been on PAX, the Penny Arcade Expo gamer convention in Seattle, there is a bigger tech convention going on in Berlin.
I have been getting a lot of info about IFA, but I find it difficult to write about conventions happening overseas. I guess I like the idea of covering conventions close by.
This is something that I would like to see, a mouse which also works as a scanner. You can see the LSM-300 going on a map of Berlin, and then turn it to digital document. It transmits at a wireless 2.4 GHz connection at 1,200 per inch.
That which you scan in can be uploaded to social networking sites like Evernote and Google Translate, but I don't know when the scanner/mouse will be available.

Source