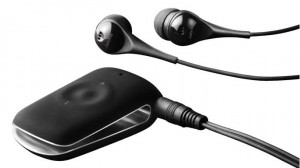 It seems like a lot of companies are making some interesting Bluetooth streamers that really transmit sound just a few feet. I am talking about devices like the BlueAnt Ribbon, and now there is the Jabra Clipper.
In addition to streaming music remotely via Bluetooth, it allows for playing, pausing and skipping tracks. I believe that the company website says that it can do so much that "you might actually forget your phone". In case you forget that you have a phone, the Clipper gives a mobile distance alert for when you are getting too far away from the phone.
The Clipper does more than just stream music as it also gives the user an alert for when there is a phone call. Taking the call is easy as tapping the button, and then the music resumes when the call is over.
Here is some other stats: up to 6 hours of talk time with up to eight days standby. I forgot to mention that it it includes 2 extra sets of ear buds in different sizes, small and large.
Like the Ribbon, the Clipper is is made for clipping, hence the name. You should be able to get it on the Jabra site for about $59.99 in colors of purple, red, blue, black and white.