Always happy to be reviewing a product from our old friends at Jabra, and since we last saw them at CES 2020, they have been putting out some interesting products, in spite of everything that has happened since then. We have been sent two of them with the Elite Active 75t and the Elite 45h.
Jabra Elite Active 75t Review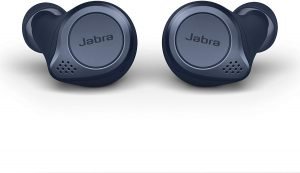 The Jabra Elite Active 75t are another pair of those cool wireless earbuds, the ones that we have been see so much lately that they are now the standard. One of these days I'll stop making that comparison, but you should check out these if you are into exercise or any type of active lifestyle. You see, they have that coveted IP57 rating, making them fully waterproof and sweatproof. Just as an added bonus, Jabra is offering a 2-year warranty against dust and sweat.
I have been told that they have a fit that is like no other, and they are a product of a thousand ears worth of work. Yeah, I got that from the company, and I think it is a very good description.
There is also this great feature known as HearThrough, allowing you to hear what is going on in the outside world if you want to. Also, if you want to make some phone calls, and there are four built-in micrphones, with a Jabra Sound+ App for even better communication.
So, since it comes with a charging case, how much power does the Elite Active 75t? We're looking at 28 hours, with 7.5 hours of continuous usage. Oh, you can get 60 minutes from the battery from a charge of about 15 minutes. That's not bad, and it has some great Bluetooth 5.0 chipset as well.
If this is something that you want, it can be purchased on the Jabra site for $199.99.
Jabra Elite 45h Review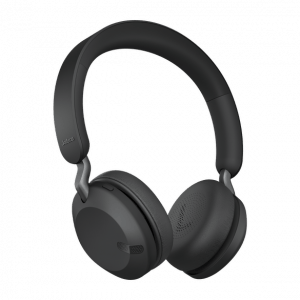 As for the Elite 45h, it is a pair of over the ear headphones that is also wireless, and, as you can see, it has a very cushy set of earcups. They also have the biggest that the headphone category has to offer with 40 mm speakers.
That's not bad, but how long is the battery life? Well, we are looking at about 50 hours, and this is also not bad. In fact, it is probably the best at this price range. It also charges pretty fast at 15 minutes for about 10 hours of listening time.
Now let's talk about how it can take calls. We are looking at 2 microphones of call technology. Oh, we are also good with the Jabra Sound+ App, as we just described. I'm not certain if we said this before, but this works with Amazon Alexa, Siri, and Google Assistant.
You can get a pair of the Jabra Elite 45h on the Jabra site for $99.99.