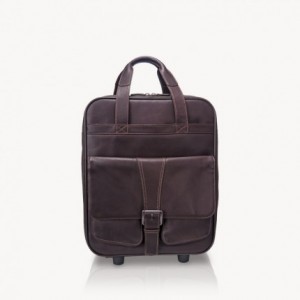 I realize that I have reviewed two Jill-E products yesterday with the Laptop Career Bag and the Metro Tablet Bag, and today is going to be about the Jack Large Rolling Bag.
Yes, Jill-E sent me a lot of their bags to review, and this will be the last one in this trilogy. The Large Rolling Bag is designed for those who are photographers, apparently. If you open up the main area, it has adjustable dividers to softly fit lens, DSLRs, and all sorts of camera equipment.
In case you haven't figured out from the name, it is a rolling bag, which means it can roll back. It has one of those collapsible handles that zips right up into the bag itself. Also included are two front pockets as well as a sleeve pocket for laptop or business files.
I mentioned that this is a bag for photographers, and I hope you are making a lot of money from your pictures to afford this. Since it is made of Colombian leather, it costs more than your ordinary bag at $389.99. You can get it here.